Aries Essence is our first essence in our Star Sign Range. 
Aries has its basis in the ram's horns symbolising the assertive, thrusting nature of the sign and its associated ability to meet challenges head-on.
If you are ready to take charge of your Star Sign imbalances call or text us today 0419 806 803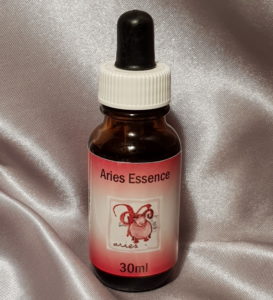 Aries Essence 30ml $29.95
Aries the first sign of the Zodiac Aries The Ram (21st March – 20th April)is the sign of action, energy, enthusiasm, anticipation, command and sometimes sheer audacity.  Arians always plan ahead and pursue their plans with great determination.  This is the sign of leaders and warriors. 
Arien karma arises from past selfishness and egocentricity. A failure to consider the needs of others, and an insensitivity to their feelings, creates the present-life karmic challenges of leadership without oppression and self-awareness without self-absorption.
Element: Fire
Quality: Cardinal
Energy: Yang
Rulers: Mars & Pluto
Colours: Red & White
Anatomy: Head and Face
Season: Spring
Number: 9
Metal: Iron
Crystals: Amethyst, Aquamarine, Aventurine, Bloodstone, Carnelian, Citrine, Fire Agate, Garnet, Iron Pyrite, Jadeite, Jasper, Kunzite, Magnetite, Pink Tourmaline, Orange Spinel, Topaz
Birthstones: Ruby, Diamond
Day: Tuesday
Key characteristics 
Determined
Fiery
Executive skill
Born leader
Impulsive
Headstrong
Opinionated
Loyal
Physical
Driven
Ambitious
Keywords: 
Self-expression
Assertion
Forcefulness
Urgency
Initiative
Courage
Aggression
Impulse
Enterprise
Passion
Selfishness
Leadership
Egotism
Combustible
Foolhardy
Survival instinct
Administering the Essence
The standard Essence dose of 7 drops from the dosage bottle, under the tongue, first thing in the morning and last thing at night.  These times of the day are powerful periods for the psyche, and at the same time they make it very easy for you to remember to take them or give them to your children or animals.
Are they safe and can anyone use them?
These Essences are completely natural. They are perfectly safe, free from side effects and adjust to the needs of the individual taking them. It is not possible to overdose on them. These Essences can be used by adults, pregnant women, children and animals. 
Precautions
Star Sign Essences are very hardy: however there are some precautions that should be taken to keep them at their best. 
· Never store Essences near electronic equipment ie mobile phones, computers, microwave ovens, clock radios and televisions. 
 · Don't store in full sun for long periods or in other places where they will get excessively hot, such as the boot of a car. Occasional exposure to such conditions will not harm the Essences but long term it could reduce their efficiency.  
 · Always close the bottle immediately after use and don't allow the dropper to touch the mouth or other parts of the body as that could contaminate the Essences when it is returned to the bottle.