Cancer Essence is the fourth in our Star Sign Range. 
Also the fourth sign of the Zodiac Cancer The Crab (22nd June – 23rd July) has its basis in the crabs claws symbolising the clinging nature of this sign.
If you are ready to take charge of your Star Sign call or text us today 0419 806 803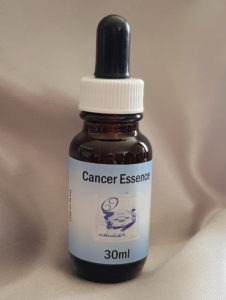 Cancer Essence 30ml $29.95
Cancer is the sign of dreams, sensitivity, gentleness, imaginations and tenacious memory. Cancerians keep and idealise past events, feelings and memories in order to shield themselves from the uncertainties of the future.
The Cancer character is almost always burdened by situations or relationships of the past that Cancer refuses to let go. There may be issues of co-dependence and 'smother love' that need attention. Positive karma often takes the form of the nurturing Cancer has given. The challenge for this sign is to find a way to nurture self rather than to rely on emotional support from others.
Element: Water
Quality: Cardinal
Energy: Yin
Ruler: Moon
Colours: Silver, White, Grey, Green, Russet, Iridescence
Anatomy: Stomach and Breasts
Season: Midsummer
Day: Monday
Number: 2
Metal: Silver, Copper
Crystals: Amber, Beryl, Brown Spinel, Carnelian, Calcite, Chalcedony, Chrysophase, Emerald, Moonstone, Opal, Pink Tourmaline, Rhodonite, Ruby, Moss Agate, Fire Agate, Dendritic Agate
Birthstones: Pearl and Moonstone
Compatible signs: 
Cancer matches easily with Scorpio and Pisces and gets along well with Virgo and Taurus.
The challenging relationships are with Capricorn, Libra and Aries. 
Key characteristics 
Deeply intuitive
Sentimental
Emotional
Sensitive
Keywords: 
Emotionality
Defensiveness
Sympathy
Vulnerability
Clingy
Tenacity
Ambition
Moody
Protective
Touchy
Shrewd
Insecure
Nostalgia
Sentimental
Administering the Essence
The standard Essence dose of 7 drops from the dosage bottle, under the tongue, first thing in the morning and last thing at night.  These times of the day are powerful periods for the psyche, and at the same time they make it very easy for you to remember to take them or give them to your children or animals.
Are they safe and can anyone use them?
These Essences are completely natural. They are perfectly safe, free from side effects and adjust to the needs of the individual taking them. It is not possible to overdose on them. These Essences can be used by adults, pregnant women, children and animals. 
Precautions
Star Sign Essences are very hardy: however there are some precautions that should be taken to keep them at their best. 
· Never store Essences near electronic equipment ie mobile phones, computers, microwave ovens, clock radios and televisions. 
 · Don't store in full sun for long periods or in other places where they will get excessively hot, such as the boot of a car. Occasional exposure to such conditions will not harm the Essences but long term it could reduce their efficiency.  
 · Always close the bottle immediately after use and don't allow the dropper to touch the mouth or other parts of the body as that could contaminate the Essences when it is returned to the bottle.