Capricorn Essence is the tenth in our Star Sign Range.
Also the tenth sign of the Zodiac, Capricorn The Goat (22nd December – 20th January). Capricorn symbolises stability and conformity.
If you are ready to take charge of your Star Sign imbalances call or text us today 0419 806 803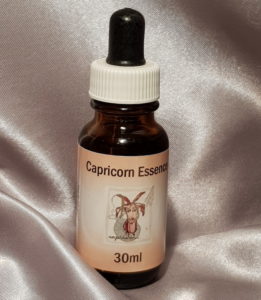 Capricorn Essence 30ml $29.95
Capricorn is the sign of ambition, intelligence and strong willpower channelled to a single goal. Capricorns always keep their cool; they are logical, rational and level-headed. This sometimes makes them seem distant, insensitive and closed to the ideas of others.
Capricorn maintains a blinkered adherence to the mores of religion or society. The karmic challenge for this individual is to find his or her inner voice and to allow that to direct life; and to integrate the spiritual into everyday, material reality.
Element: Earth
Quality: Cardinal
Energy: Yin
Rulers: Saturn
Colour: Brown
Anatomy: Bones, Joints and Knees
Season: Winter
Day: Saturday
Number: 8
Metal: Lead, Platinum
Crystals: Turqouise, Onyx, Amber, Azurite, Carnelia, Fluorite, Green and Black Tourmaline, Labradorite, Magnetite, Malachite, Peridot, Quartz, Ruby, Smoky Quartz, Annagergite, Aragonite, Galena
Birthstones: Jet, Garnet
Compatible signs: 
Taurus
Virgo
Scorpio
Pisces
Mismatched signs: 
Aries
Libra
Key characteristics 
Consolidation
Authority
Authoritarianism
Discipline
Conversation
Caution
Responsibility
Duty
Pessimistic
Prudent
Conventional
Narrow-minded
Callous
Keywords: 
Charming
Generous
Gentle
Intelligent
Patient
Disciplined
Determined
Hardworker
Consistent
Administering the Essence
The standard Essence dose of 7 drops from the dosage bottle, under the tongue, first thing in the morning and last thing at night.  These times of the day are powerful periods for the psyche, and at the same time they make it very easy for you to remember to take them or give them to your children or animals.
Are they safe and can anyone use them?
These Essences are completely natural. They are perfectly safe, free from side effects and adjust to the needs of the individual taking them. It is not possible to overdose on them. These Essences can be used by adults, pregnant women, children and animals. 
Precautions
Star Sign Essences are very hardy: however there are some precautions that should be taken to keep them at their best. 
· Never store Essences near electronic equipment ie mobile phones, computers, microwave ovens, clock radios and televisions. 
 · Don't store in full sun for long periods or in other places where they will get excessively hot, such as the boot of a car. Occasional exposure to such conditions will not harm the Essences but long term it could reduce their efficiency.  
 · Always close the bottle immediately after use and don't allow the dropper to touch the mouth or other parts of the body as that could contaminate the Essences when it is returned to the bottle.