Libra Essence is our seventh in our Star Sign Range. 
Also the seventh sign of the Zodiac Libra The Scales (24th September – 23rd October) has its basis in the scales of justice, represents the Libran tendency to carefully 'weigh things up' before acting. 
If you are ready to take charge of your Star Sign imbalances call or text us today 0419 806 803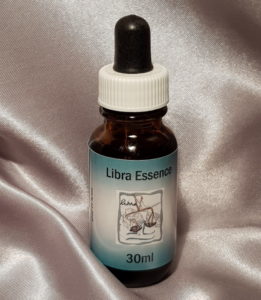 Libra Essence 30ml $29.95
Libra is the sign of justice – that is fair distribution of possessions, right and duties between all – and the search for balance and harmony. This may lead Librans into making excessive compromises.
Karma for Libran personalities centres around relationships and a tendency to adapt to the detriment of self. Indecisiveness and a relaxed relationships with the truth are other areas worthy of examination.
The karmic challenge for Libra is to be open and truthful in future relationships, so that the needs of both parties are met equally.
Element: Air
Quality: Cardinal
Energy: Yang
Rulers: Venus
Colour: Blue, Pink, Black, Dark Crimson
Anatomy: Kidneys, Lower Back, Adrenal Glands
Season: Mid-Autumn
Day: Friday
Number: 6
Metal: Copper
Crystals: Ametrine, Apophyllite, Aquamarine, Aventurine, Bloodstone, Chiastolite, Chrysolite, Green Spinel, Green Tourmaline, Jade, Kunzite, Lapis Lazuli, Lepidolite, Mahogany Obsidian, Moonsotne, peridot, Prehnite, Sunstone, Topaz
Birthstones: Sapphire, Opal
Compatible signs: 
Aquarius and Gemini. 
Libra gets along well with Sagittarius and Leo.
The challenging relationships are with Aries, Cancer and Capricorn.
Mismatched signs: 
Pisces
Taurus
Key characteristics 
Balanced
Artistic
Fair
Beautiful
Lighthearted
Charming
Sociable
Idealistic
Refined
Easygoing
Romantic
Keywords: 
Relationship
Harmony
Partnership
Co-operation
Diplomatic
Conciliation
Perfectionist
Indecisive
Compromise
Insincerity
Judgement
Adjustment
Adaptation
Vacillating
Frivolous
Peaceable
Congenial
Aesthetic
Determined
Administering the Essence
The standard Essence dose of 7 drops from the dosage bottle, under the tongue, first thing in the morning and last thing at night.  These times of the day are powerful periods for the psyche, and at the same time they make it very easy for you to remember to take them or give them to your children or animals.
Are they safe and can anyone use them?
These Essences are completely natural. They are perfectly safe, free from side effects and adjust to the needs of the individual taking them. It is not possible to overdose on them. These Essences can be used by adults, pregnant women, children and animals. 
Precautions
Star Sign Essences are very hardy: however there are some precautions that should be taken to keep them at their best. 
· Never store Essences near electronic equipment ie mobile phones, computers, microwave ovens, clock radios and televisions. 
 · Don't store in full sun for long periods or in other places where they will get excessively hot, such as the boot of a car. Occasional exposure to such conditions will not harm the Essences but long term it could reduce their efficiency.  
 · Always close the bottle immediately after use and don't allow the dropper to touch the mouth or other parts of the body as that could contaminate the Essences when it is returned to the bottle.