Pisces Essence is the final essence in our Star Sign Range.
The twelfth sign of the zodiac Pisces the Fish (20th Febraury – 20th March) represented by two fish swimming in opposite directions while tied together at the centre to represent the vacillating, fluid nature of Pisces.
If you are ready to take charge of your Star Sign imbalances call or text us today 0419 806 803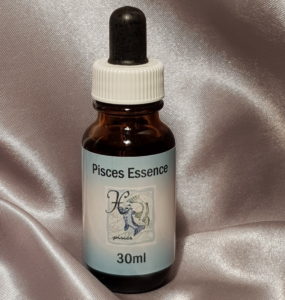 Pisces Essence 30ml $29.95
Pisces is the sign of intense emotional sensitivity, desire for togetherness and absolute, mystical or religious love.
Pisceans can be idealistic and unable to face reality, which sometimes leads to irrational behaviour.
Karma in the Piscean sphere centres around the sign's tendency to play the saviour or victim, taking on atonement rather than at-onement. The karmic challenge is to learn to empathise without taking on someone else's pain.
Element: Water
Quality: Mutable
Energy: Yin
Rulers: Neptune & Jupiter
Colour: Sea-green, Pure White, Mauve, Silver
Anatomy: Feet, Immune System, Hormonal System
Season: Winter
Day: Thursday
Number: 7
Metal: Tin
Crystals: Bloodstone, Aquamarine, Beryl, Blue Lace Agate, Calcite, Chrysophase, Fluorite, Labradorite, Turquoise, Smithsonite, Sunstone
Birthstone: Amethyst, Moonstone
Compatible signs: 
Aries
Taurus
Cancer
Scorpio
Sagittarius
Capricorn
Pisces
Mismatched signs: 
Gemini
Leo
Virgo
Libra
Aquarius
Key characteristics 
Loving
Sensitive
Intuitive
Spiritual
Idealistic
Victimised
Moody

 
Keywords: 
Compassionate
Impressionable
Receptive
Imagination
Dreamer 
Mysticism
Confusion
Elusive
Self-effacing
Imaginative
Artistic
Administering the Essence
The standard Essence dose of 7 drops from the dosage bottle, under the tongue, first thing in the morning and last thing at night.  These times of the day are powerful periods for the psyche, and at the same time they make it very easy for you to remember to take them or give them to your children or animals.
Are they safe and can anyone use them?
These Essences are completely natural. They are perfectly safe, free from side effects and adjust to the needs of the individual taking them. It is not possible to overdose on them. These Essences can be used by adults, pregnant women, children and animals. 
Precautions
Star Sign Essences are very hardy: however there are some precautions that should be taken to keep them at their best. 
· Never store Essences near electronic equipment ie mobile phones, computers, microwave ovens, clock radios and televisions. 
 · Don't store in full sun for long periods or in other places where they will get excessively hot, such as the boot of a car. Occasional exposure to such conditions will not harm the Essences but long term it could reduce their efficiency.  
 · Always close the bottle immediately after use and don't allow the dropper to touch the mouth or other parts of the body as that could contaminate the Essences when it is returned to the bottle.