Sagittarius Essence is the ninth in our Star Sign Range.
Also the ninth sign of the zodiac Sagittarius the Archer (23rd November – 21st December) represented by a flying arrow symbolises the quest that drives this sign; the centaur suggests a dual nature that fuses instinct with intellect.
If you are ready to take charge of your Star Sign imbalances call or text us today 0419 806 803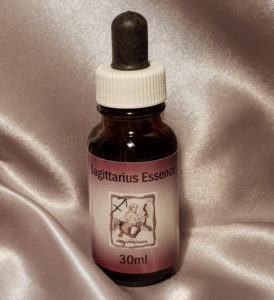 Sagittarius Essence 30ml $29.95
Sagittarius is the sign of human adventure, playing and gambling, search for fulfillment, love of life and naïve optimism. Sagittarians are sometimes taken in by their own or others' ideas, and lack of realism.
Sagittarius has explored many belief systems during his or her lifelong quest for meaning. The karmic challenge is to distinguish what is truth and to live according to that.
Element: Fire
Quality: Mutable
Energy: Yang
Ruler: Jupiter
Colour: Purple, Dark Royal Blue, Yellow, Green
Anatomy: Sciatic Nerve, Hips and Thighs, Pituitary Gland
Season: Winter
Day: Thursday
Number: 3
Metal: Tin
Crystals: Azurite, Blue Lace Agate, Chalcedony, Charoite, Dark Blue Spinel, Dioptase, Garnet, Gold Sheen Obsidian, Labradorite, Lapis Lazuli, Malachite, Snowflake Obsidian, Pink Tourmaline, Ruby, Smoky Quartz, Spinel, Sodalite, Sugilite, Wulfenite, Okenite
Birthstone: Topaz, Turquoise
Compatible signs: 
Aries
Leo
Libra
Aquarius
Mismatched signs: 
Virgo
Pisces
Key characteristics 
Curious
Energetic
Open minded
Extrovert
Optimistic

 
Keywords: 
Seeker
Quest
Questioning
Adventure
Spontaneity
Optimism
Tactlessness
Philosophy
Freedom
Careless
Idealistic
Extravagant
Jovial
Freedom-Loving
Exaggeration
Restlessness
Administering the Essence
The standard Essence dose of 7 drops from the dosage bottle, under the tongue, first thing in the morning and last thing at night.  These times of the day are powerful periods for the psyche, and at the same time they make it very easy for you to remember to take them or give them to your children or animals.
Are they safe and can anyone use them?
These Essences are completely natural. They are perfectly safe, free from side effects and adjust to the needs of the individual taking them. It is not possible to overdose on them. These Essences can be used by adults, pregnant women, children and animals. 
Precautions
Star Sign Essences are very hardy: however there are some precautions that should be taken to keep them at their best. 
· Never store Essences near electronic equipment ie mobile phones, computers, microwave ovens, clock radios and televisions. 
 · Don't store in full sun for long periods or in other places where they will get excessively hot, such as the boot of a car. Occasional exposure to such conditions will not harm the Essences but long term it could reduce their efficiency.  
 · Always close the bottle immediately after use and don't allow the dropper to touch the mouth or other parts of the body as that could contaminate the Essences when it is returned to the bottle.