Virgo Essence is the sixth in our Star Sign Range.
Also the sixth sign of the zodiac Virgo the Maiden (24th August – 23rd September) represents a maiden holding an ear of wheat, symbolising the productive nature of the sign.
If you are ready to take charge of your Star Sign imbalances call or text us today 0419 806 803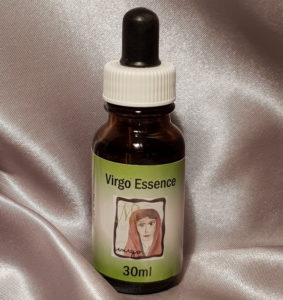 Virgo Essence 30ml $29.95
Virgo is the sign of order, organization, precision and safekeeping. They are the worriers of the zodiac. Virgos are always willing to help: they are modest and shy and tend to underestimate themselves and others.
Taken too far, the Virgo personality can easily fall into servility. This sign needs to learn to serve from the heart with true humility, seeking neither recognition nor reward. The karmic challenge is to exercise judgement and discernment without becoming critical or pedantic.
Element: Earth
Quality: Mutable 
Energy: Yin 
Rulers: Mercury
Colour: Blue
Anatomy: Abdomen, Intestines and Colon
Season: Early Autumn
Day: Wednesday
Number: 5
Metal: Mercury, Copper
Crystals: Amazonite, Amber, Blue Topaz, Dioptase, Carnelian, Chrysocolla, Citrine, Garnet, Magnetite, Moonstone, Moss Agate, Opal, Purple Obsidian, Rebellite, Rutilated Quartz, Saphhire, Sodalite, Sugilite, Smithsonite, Okenite
Birthstone: Peridot, Sardonyx
Compatible signs: 
Capricorn and Taurus. 
Virgo gets along well with Scorpio and Cancer. 
The challenging relationships are with Pisces, Sagittarius and Gemini. 
Aries
Aquarius
Libra
Leo
Key characteristics 
Service
Discrimination
Analysis
Efficiency
Perfectionist
Conscientious
Purity
Fruitfulness
Fastidious
Submissive
Modest
Efficient
Nit-picking
Pedantic
Narrow-minded 
Keywords: 
Positive
Efficient
Kind Hearted
Perfectionist
Modest
Shy
Meticulous
Reliable
Diligent
Practical.
Analytical
Detailed
Precise
Administering the Essence
The standard Essence dose of 7 drops from the dosage bottle, under the tongue, first thing in the morning and last thing at night.  These times of the day are powerful periods for the psyche, and at the same time they make it very easy for you to remember to take them or give them to your children or animals.
Are they safe and can anyone use them?
These Essences are completely natural. They are perfectly safe, free from side effects and adjust to the needs of the individual taking them. It is not possible to overdose on them. These Essences can be used by adults, pregnant women, children and animals. 
Precautions
Star Sign Essences are very hardy: however there are some precautions that should be taken to keep them at their best. 
· Never store Essences near electronic equipment ie mobile phones, computers, microwave ovens, clock radios and televisions. 
 · Don't store in full sun for long periods or in other places where they will get excessively hot, such as the boot of a car. Occasional exposure to such conditions will not harm the Essences but long term it could reduce their efficiency.  
 · Always close the bottle immediately after use and don't allow the dropper to touch the mouth or other parts of the body as that could contaminate the Essences when it is returned to the bottle.