The Water Essence is the first of seven essences in the White Light Essence Range.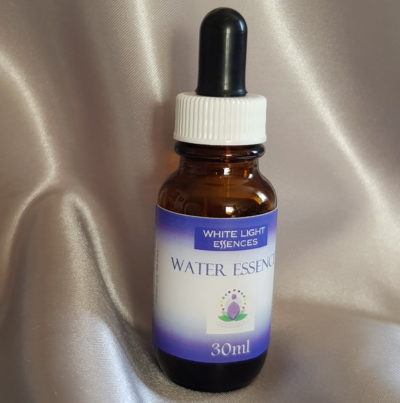 The Water Essence helps you release emotional disharmony, allowing you to let go of the past and helps to keep you open after having a traumatic experience. It's a nurturing essence that helps you become open to receiving.
If you are ready to take charge of your spiritual health call or text us today
0419 806 803 
     Water Essence 30ml $29.95
The Water Essence was made from an alchemic blend of two Essences – one from each hemisphere; they were prepared on the isle of Iona, on the west coast of Scotland and Heron Island on Australia's Great Barrier Reef. 
This remedy allows you to intensely experience your own emotional disharmony so that it may then be purified and released. 
The Water Essence illuminates the conscious mind so as to reveal and initiate the release of our deepest, most ancient negative karmic patterns. It also dissolves the boundaries of a person's perceptions and realities. 
It is very nurturing and cleansing and encourages us all to be more open to receiving and trusting of ourselves and feel Spirit's love vibration that surrounds us. 
This Essence enables us to find the inner stillness in which to experience our feelings fully and achieve emotional harmony. It creates the deep knowing that whatever challenge that one is encountering, you will be all right.
It creates the deep knowing that whatever challenge that one is encountering, you will be all right and helps one from staying emotionally closed off after a negative or traumatic experience. 
By taking the Water Essence first, this will help to dissolve away the limitations of where you believe you are capable of going prepares the way for the Earth Essence to then take you beyond your old reference points and limitations.
Descriptive text supplied courtesy of Australian Bush Flower Essences, all rights reserved.
Administering the Essence
The White Light Essences work best when taken individually one Essence at a time. They should be taken for a minimum period of two weeks, a standard Essence dose of 7 drops from the dosage bottle, under the tongue, first thing in the morning and last thing at night.
These times of the day are powerful periods for the psyche, and at the same time they make it very easy for you to remember to take them. At the end of that period you can either repeat this Essence or commence the next Essence.
It is highly recommended that the Water Essence be the first of the seven White Light Essences to be taken, and you work through each Essence sequentially – Water – Earth – Fire – Air – Higher Self – Devic and finally Angelic.
This chronology allows for the flowing expansion of our reality and consequently paves the way for fully utilising the unique qualities of the other Essences – greatly enhancing and activating them. To do otherwise will appreciably reduce the effectiveness of the results.
Are they safe and can anyone use them?
These Essences are completely natural and are perfectly safe, free from side effects and adjust to the needs of the individual taking them. It is not possible to overdose on them. These Essences can be used by adults, pregnant women, children and animals.
Precautions
White Light Essences are very hardy: however there are some precautions that should be taken to keep them at their best.
· Never store Essences near electronic equipment ie mobile phones, computers, microwave ovens, clock radios and televisions.
· Don't store in full sun for long periods or in other places where they will get excessively hot, such as the boot of a car. Occasional exposure to such conditions will not harm the Essences but long term it could reduce their efficiency.
· Always close the bottle immediately after use and don't allow the dropper to touch the mouth or other parts of the body as that could contaminate the Essences when it is returned to the bottle.