Ever wondered what the Shelf life of your Makeup Products are?
We are all guilty of having piles of make-up in our drawers or cosmetic bags that we sometimes use, can't remember buying, but keep just in case!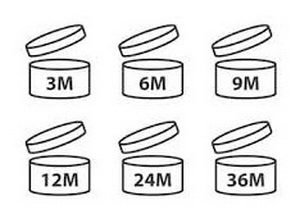 This little open jar icon is the PAO (or Period After Opening) symbol, which manufacturers print on the labels of cosmetics as a guide for how long you can use the product once you have opened it.
Old makeup loses its quality and can even cause irritation and infections if it's used past its expiration date.
Cosmetics lasts a long time, but not forever…so here is a quick guide on the shelf life of your makeup products…
Blush (Powder) 2 years
Blush (Cream) 12 to 18 months
Bronzer up to 2 years
Concealer up to 12 months
Eye Liner (Pencil) up to 3 years Sharpen your eye pencil before each use
Eye Liner (Liquid) up to 6 months
Eyeshadow (Cream) 12 to 18 months
Eyeshadow (Powder) 2 years
Foundation (Water-based) 12 months
Foundation (Oil-based) up to 18 months
Foundation (Compact) up to 18 months
Lip Gloss up to 2 years
Lip Liner up to 3 years
Sharpen your lip pencils regularly.
Lipstick

2 to 4 years
Store lipsticks in the refrigerator, they will last up to 2 years longer.
Make Up Brushes:

No expiry date
Your make up brushes will last forever if you take care of them. Wash every 1 – 2 weeks in a mild detergent and let them air dry. If you take care of them you'll never have to throw them out!
Make up Sponges:

Wash weekly and discard monthly
Mascara

throw out after 3 months best stored in a cool dark place
Nail Polish: up to 3 years once opened.
To help extend polish life store them in a cool dark place with consistent temperature. Keep the neck of the bottle clean so the lid closes properly. Once the drying agent has separated from the colour toss it out! No amount of shaking will resurrect it.
Perfume: 2 years after opening.
Your perfume should be stored upright and kept in its original box. If your perfume is exposed to daylight the fragrance will rapidly deteriorate.
Translucent Powder: 2 years