Our DIY Beauty Recipes will help you nurture yourself and remove nasty chemicals from your beauty routine.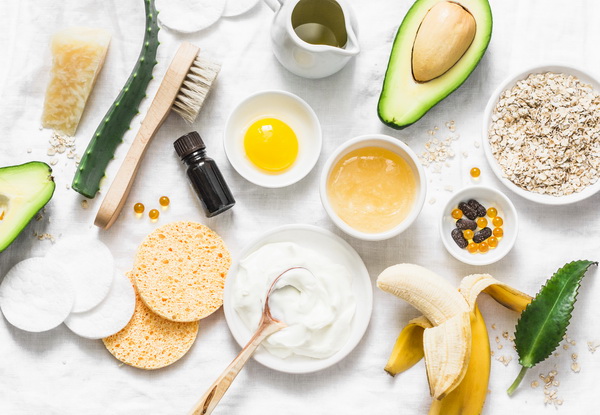 The average woman uses 12 beauty products on a daily basis containing over 200 ingredients most of them toxic which can potentially lead to health issues. 
Improve on your budget as well as your health with our DIY Beauty Recipes: 
In a small glass bowl, combine 1 cup Epsom salts, 1/2 cup baking soda, 15 drops of Rosemary EO, 10 drops Lemongrass EO, 5 drops of Geranium EO, 5 drops of Lavender EO. Stir ingredients thoroughly. Optional: add some dried lavender buds and dried rose petals. Transfer to an airtight jar and store in a dark place for 6 months. Add 1/4 cup of bath salts to warm running water.Before entry agitate the water. Relax and enjoy!
Warm a medium-sized saucepan over medium heat, then add 1 cup coconut oil, 1 cup solid cocoa butter (do not use lotion), melt until completely liquefied. Pour into a glass bowl and place in fridge for 30 mins to cool almost set add 15 drops of your favourite essential oils. We love 5 drops each of Cedarwood, Lavender and Frankincense EO. Using an electric mixer, whip until firm peaks form then transfer to a seal-able jar. Store at room temperature. Massage into dry skin daily.
Combine ½ cup Almond Oil (or Jojoba oil), ¼ cup Coconut oil, ¼ cup Bees Wax, in a double boiler or glass bowl on top of a simmering pan of water. Stirring occasionally until melted. Add 1 TSP Vitamin E oil and 20 drops of your favourite essential oils or 20 drops of vanilla extract. Pout into a glass jar and F or soft supple skin use twice daily for optimum results, Shelf life is 6 months. Ideal for use on eczema, nappy rash and stretch marks.
Mix ½ cup Coconut or Olive or Jojoba Oil, ½ cup White Sugar, Zest of 1 Grapefruit, 1 TBSP. Grapefruit Juice, 8 drops Peppermint EO, 18 drops Grapefruit EO, ¼ TSP. Beet Juice (optional for colour). Mix together coconut oil and white sugar, until a thick paste is formed. Add grapefruit zest, juice, essential oils and beet juice. Mix well until fluffy. Store in an air-tight glass jar in fridge. For soft supple skin use every third day follow with moisturiser.
In a 60ml glass spray bottle add 1 teaspoon vegetable glycerin, 1 teaspoon witchhazel, 50ml distilled water, 10 drops essential oil, Shake thoroughly to mix. Shake before each use. Spritz a few times onto wrists, chest, neck, or anywhere else you want a light scent. For stronger scents, add more drops.
In a 30ml dropper bottle combine 20 drops of Lavender Essential oil, 1 ½ TBSP Apricot Kernel Oil, ½ TSP vitamin E Oil. Replace lid and roll in palms to mix. Apply 1 drop per nail, massage oil into cuticles and across nails until absorbed. Use nightly before retiring. Store bottle in cool, dark place.
Ingredients 30g bicarbonate of soda, 30g arrowroot powder, 4 tablespoons of coconut oil, 10 drops Cypress essential oil (or other essential oil of your choice), a tin or jar with a lid. Combine all the dry ingredients together in a bowl. Add the coconut oil followed by the essential oils. Mix ingredients thoroughly until it's a creamy consistency. Store in a jar with a lid. Use a spatula or your finger to apply deodorant to your skin.
In a small glass jar, combine 2 drops of Therapeutic Grade Lavender Essential Oil to 1 teaspoon of Unrefined Coconut Oil and thoroughly mix through. With a clean mascara wand apply a tiny amount of the mix to your eyelashes upon retiring each night. Daily use will strengthen and promote lash growth. Store in cool dark place away from heat and sunlight.
Combine 2 tbsp Fractionated Coconut oil, 1 TBSP Witch Hazel, 2 TBSP Distilled Water, 4 drops Lavender EO into a mason jar and shake thoroughly. Press 15-20 Cotton Rounds into jar until solution soaks into pads. Tighten lid. Use daily to remove makeup then proceed with your normal skin care routine.
In a small glass jar combine 1/3 cup Epsom salt, add 10 drops of Essential Oils* stir thoroughly. Pour the mixture into your bathtub or a foot basin. Be sure to add enough warm water to cover your feet. Stir the mixture in the water until the salt dissolves. Now add 1-2 teaspoons AlkaLime® and stir until it's dissolved. Soak your feet for 20-30 minutes. *Choose 1 combination from Lavender + Geranium or Bergamot + Cedarwood + Marjoram or Eucalyptus + Orange + Lime
Combine in a small glass bowl 2 tablespoons coconut oil, 2 teaspoons olive oil, 4 drops Clary Sage essential oil, and 4 drops Rosemary essential oil. Apply to hair, concentrating on the ends, and let sit for 15 minutes. Wash hair and style hair as normal. Repeat when required.
Combine in a small glass jar ½ cap of Thieves Household Cleaner, 15ml of Neutral spirits (ie Vodka), 1 drop Lemon Essential Oil. Soak all jewellery for 30 minutes. Brush gently with a soft brush, rinse well then dry with a soft microfiber cloth. Clean your jewelry once a month.Softer stones (Pearls & Opals) require special cleaning care consult with your jeweller.
Place all the ingredients (except essential oils) in a double boiler. 2 TBSP beeswax, 2 TBSP cocoa butter, 2 TBSP coconut oil. If you don't have a double boiler, make one by putting a glass bowl in a pot of boiling water. Mix thoroughly. Once melted remove from heat, allow a few minutes to cool add 25 drops of Lavender essential oil. Use a funnel to fill balm containers and allow to harden before capping them.
Mix 1 teaspoon of unscented Castile Soap, 2 drops Tea Tree EO, 1 drop Lemon EO into a small glass jar and mix well. Directions: Once brush at a time, rinse the brush bristles under warm running water, dip the brush into the soap mix and gently swirl the bristles in your palm, using finger tips to wash out the makeup residue. Rinse bristles, squeeze out excess water and reshape bristles allow to dry overnight. Wash your brushes weekly.
In an empty 15ml bottle combine a total of 15-20 drops of your selected essential oils with 15ml of Almond or Jojoba Oil. Refit the roller fitment and cap, add a label and then apply. Roll bottle in between palms before applying. To apply roll oil on to your neck, wrists, or anywhere you apply perfume. For an erotic scent combine 5 drops Patchouli EO, 5 drops Orange EO, 5 drops Ylang Ylang EO. For a calming scent combine 5 drops frankincense, 2 drops of Geranium, 5 drops Lavender, 3 drops of Ylang Ylang.
Combine in a glass bottle 4 TBSP aloe vera gel, 1 TSP fractionated coconut oil, ½ TSP vegetable glycerin, ½ TSP vitamin E oil, 3 drops Cedarwood Essential Oil, 3 Orange Essential oil. In a glass bottle combine all ingredients and shake well. Use on wet skin for a perfectly smooth shaving experience.
Combine 1 cup Jojoba Oil, 2 Tbls Shea Butter, 1 tsp Carrot Seed Oil, 1 tsp Vitamin E oil into small jar. Fill a small pot with 2 inches of water on stove over low heat, place jar in pot and stir until mixed, add 2 tablespoons of zinc oxide, stir thoroughly, remove from heat, cool for 2 minutes then add in 10 drops Lavender, 10 drops Peppermint, 5 drops Geranium, 5 drops Frankincense Essential Oil. Store in cool dry place. Shelf Life 6-12 months.
9. Combine into a glass bottle 3/4 of the way with distilled water, fill ¼ Witch hazel add 15 drops of Tea Tree EO, 10 drops Lavender EO, place spray lid onto bottle and shake well. Spray yoga matt thoroughly and wipe down with a small towel.