Our What's New? Page is dedicated to anything new and exciting in the Nail and Beauty industry.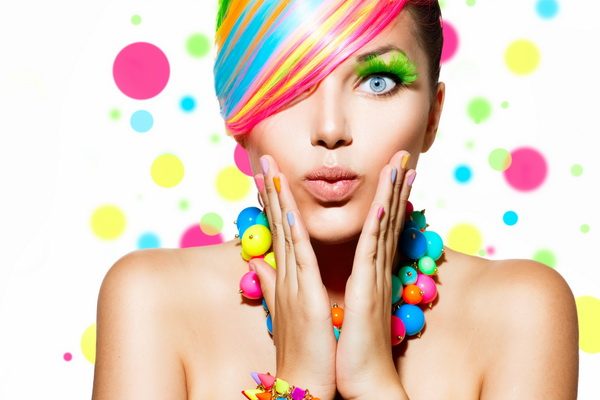 If you consider yourself a fashionista, a woman who has placed her freshly manicured finger on the fashion pulse aiming to always stay ahead of the latest trends, then bookmark this page.
Bookmarking this page will make sure you stay up to date with the latest beauty trends and give yourself a reminder to test drive them.
We are dedicated to providing our clients the highest calibre of variety and quality, both with the treatments we offer and the products we use and sell.
CND® SHELLAC® Brand 14+ Day Nail Colour: Party Ready Collection

December 2021

CND Party Ready is a collection that applauds a renewed outlook on life and all that is to be celebrated and rejoiced. This range of effortless yet glam holiday shades embraces a relaxed approach without compromising on style. The holiday collection includes: Glitter Sneakers, a shimmering gold; Signature Lipstick, a deep, dramatic red; Silk Slip Dress, a universal pale pink; White Button Down, a warm winter white; Statement Earrings, a glittery mauve and High Waisted Jeans, a deep navy.

CND® SHELLAC® Brand 14+ Day Nail Colour: Wild Romantics Collection

October 2021

A collection that celebrates freedom, love and nature. The range invites you to seek sophisticated simplicity and find beauty in serenity. Featuring Books & Beaujolais, a deep barn red, Wrapped in Linen, a classic neutral, Soft Flame, a sophisticated terracotta, Wooded Bliss, a rich, pink-toned mauve, Candlelight, a goldenrod yellow and Verbena Velvet, a jewel-toned violet.

Zoya Neutral 4

September 2021

Are you feeling a bit lost in the shuffle? Unsure what colours to wear between Spring & Christmas? Zoya Naturel 4 collection consists of 6 gorgeous muted soft mauve-toned neutral creams, plus an exciting duo-chrome shade for a little extra sparkle.. Evelyn is a cool toned blush pink creme. Cami is a pale mauve/taupe crème. Barrett is a dusty taupe-violet creme. Vivian is a dusty grape creme. Adeline is a deep taupe-fig creme. Marlowe is as a duo-chrome with a rose-gold shimmer in a sheer slate-blue base which looks lovely layered over all 6 shades.

Marble Nails

November 2020

Marble nails are taking over the nail world with beautiful tie dyed effects over black or white nail colour. If you are looking for something to inspire your next manicure check out our Marble manicures.

Neo-Pearl Collection

September 2020

Explore OPI's newest collection, Neo-Pearl. Add a pearlescent shine to your next nail service with a colour from this gorgeous collection. Choose from 6 Nail Polish or 6 Gel Polish colours in the shades Shellmates Forever!, Pretty in Pearl, Just a Hint of Pearl-ple, Did You See Those Mussels?, Shellabrate Good Times and Two Pearls in a Pod.

Party Nail Art Confetti

July 2020

If you are like me and are into shiny things then Nail Art Confetti will be your next choice for your party nails. Choose from 12 Colour Combinations.

Flower Foil Nail Art

June 2020

If you are looking for something a little Want to get in touch wit your soft feminine side try adding some subtle flowers to your next nail service. These delicate Nail Art Foils create the perfect "mixed Flower" finish. Perfect for any polish colour. We have a variety of flowers to choose from.

OPI Holiday Collection

December 2019

Celebrate this Christmas season with The Hello Kitty Holiday Collection by OPI. Colours include Let's Be Friends, Glitter to My Heart, A Hush of Blush, Born to Sparkle, Isn't She Iconic, All About the Bows, Dream in Glitter, Let's Celebrate!, Many Celebrations to Go, Glitter All the Way, A Kiss on the Chic and Let Love Sparkle. Let's get your party nails started!

Gelish The Colour of Petals Collection

September 2019

The colour palette for the upcoming spring collection is filled with soft tones that are perfect, not only for this season, but for all year-round. Treat yourself to a manicure and choose from these six NEW floral shades: Merci Bouquet – Lilac Creme, Gardenia My Heart – Dusty Rose Creme, I Feel Flower-ful – Light Nude Creme, Young, Wild & Free-sia – Soft Peach Creme, Follow The Petals – Pink Pearl, Strike A Posie – Blush Pink Creme.

Ready...Set...Lash Lift! Wake up to beautiful lifted lashes in under an hour! You can finally ditch your Lash Curler and Mascara and still wake up to gorgeous lashes every morning!!

CND® SHELLAC® Brand 14+ Day Nail Colour: Prismatic Collection

June 2019

Give your next manicure some major shock value by choosing one or all of these shades from the latest Shellac collection from CND. The Prismatic collection offers 3 urban shades Psychedelic, Holographic and Aura. Which one will you try first?

Zoya Urban Grunge Collection

May 2019

Zoya Urban Grunge Polish Collection of cream polishes reinterprets Grunge with a modern twist for Winter! Featuring 6 sleek, one coat, colour saturated creams to amp up the voltage of the season. August A full coverage grey like a fine, expensive leather with a mid-ranged, balanced tone. Mallory A full bodied, vibrant Prussian blue with a deeply saturated colour. Tara A purple plum with a balanced tone between red and purple. Courtney A deep red beet root shade. Wyatt A true racing green with a deep pigment. Noah A mid-range taupe evenly balanced between yellow and grey. Ask for them when you book your next nail service.

CND® SHELLAC® Brand 14+ Day Nail Colour: Sweet Escape Collection

March 2019

Just because Autumn has arrived that doesn't mean you have to have boring nails. Let your next manicure be elegant yet exciting with the latest Shellac Polishes from CND. The Sweet Escape Collection offers 3 captivating shades, 2 pretty pastels shades Coquette and Exquisite plus a warm neutral shade Soulmate. Which of these 3 gorgeous shades will be your favourite?

Zoya Seashells Collection

February 2019

Zoya Seashells Polish Collection consisting of 6 sparkly nail polishes Levi, Linds, Zooey, Cece, Bay, and Tilly. Everything you need to bling up you nails. Ask for them when you book your next nail service.

Zoya Party Girls Collection

January 2019

Zoya Party Girls Polish Collection consisting of 6 gorgeous nail polishes Blake, Isadora, Landon, Delaney, Danielle and Kelsey. Everything you need for your Valentine's Day nails. Ask for them when you book your next nail service.

CND® SHELLAC™ Brand 14+ Day Nail Colour Night Moves Collection

December 2018

Just in time for the holidays. Light Up The Night with these gorgeous new shades from CND Night Moves Collection. These limited release colours feature 4 gorgeous colours Kiss of Fire, Bellini, After Hours and Soiree Strut.

If there is one current trend that will benefit ALL women young and old.... its Brow Henna. The newest trend to hit Adelaide which is guaranteed to streamline your make-up routine and get you out the door quicker each morning.

Zoya Ultra Brites Collection

November 2018

Zoya Ultra Brites Polish Collection consisting of 6 neon nail polishes Cana, Erza, Bisca, Evergreen, Juvia, and Mirajane. These colours are sure to brighten up your day! It's time to rock some brites!

Gelish Glow in the Dark Top Coat

October 2018

Arrived just in time for Halloween! This Glow in the Dark Top Coat will sure light up your life! Apply it over your favourite Gel Polish. Additional $5.00 with any nail service

CND® SHELLAC™ Brand 14+ Day Nail Colour Duraforce Top Coat

July 2018

Got thin, weak brittle nails? It's our secret to a long lasting Shellac Manicure. Sshhhh! Provides the ultimate protection for hard, scratch-resistant mirror shine to the Shellac Brand system. Duraforce is removed using a gentle "soak off removal" process in just 15 minutes without any scraping, filing or drilling of the natural nails.

Zoya's Sophisticates Collection

June 2018

Showcasing smouldering nudes, wine reds and shadowy hues. This divine palette is sure to compliment all the latest trends of the season. Collection consisting of 6 gorgeous nail polishes McKenna, Beth, Presley, Joni, Padma and Hera. Ask for them when you book your next nail service.

CND® SHELLAC™ Brand 14+ Day Nail Colour Nude Collection.

February 2018

Give your next Shellac Mani or Pedi a natural look and try the new Nude Collection. Bare it all, without baring it all. A chic array of nude shades that give off an understated elegance and femininity in a classic, minimalistic way. These 4 gorgeous shades create the most perfect, natural yet oh-so-polished look that looks amazing on all skin tones and suits any nail shape! (Left to Right) Uncovered, Unlocked, Unmasked and Unearthed.

Essie Nail Polish Penny Talk

October 2017

I have a major crush on Rose Gold at the moment... I'm in love with anything Rose Gold. So I fell hard when I came across this nail polish Penny Talk by Essie - a pretty rose gold metallic polish. It is so feminine and gorgeous. Try it for your next nail service.

Rose Gold Glitter

October 2017

Rose Gold, a colour somewhere between luxury and fashionista. Primp up your next French acrylic refill with this gorgeous Rose Gold Glitter. Totally in right now...

CND® SHELLAC™ Brand 14+ Day Nail Colour Matte Top Coat.

September 2017

Give your Shellac Manicure or Pedicure a major upgrade and try the new Matte Top Coat. It leaves a velvety, silky smooth matte finish to any SHELLAC™ Colour Coat.

Lonvitalite Face Masks

March 2017

These are serum infused cloth face, eye, and lip masks. All masks are completely cruelty free, made without parabens or nasty chemicals, and formulated with 100% natural plant based collagen (bye, bye fine lines and wrinkles). S1 Lightening & Brightening Pigmentation Silk Sheet Mask S2 Collagen Protein Wrinkle Removing Silk Sheet Mask S3 Red Wine Collagen Firming & Moisturising Silk Sheet Mask S4 Coconut Milk Hydrating & Nourishing Silk Face Mask C5 Coffee Anti Fatigue Cloth Mask C6 Green Tea Antioxidant Cloth Mask Priced between $35.00 - $42.00 you can afford to try one or all of them...These masks will change your skin for the better - you won't regret it!

Holographic Nails

January 2017

After enjoying the shiny mirror finish of chrome nails over the past few months we've now fallen in love with the sparkly, colourful and oh-sooo pretty Holographic nails. Choose from 20 colours. Full Set of Holographic Nails additional $20.00 per nail treatment. Accent Nails additional $5.00 per nail Try it with your next Shellac Manicure or Pedicure

CND® SHELLAC® Brand 14+ Day Nail Colour Starstruck Collection

November 2016

Celebrate the elegance of Hollywood with the new Starstruck Collection. Comprised of dazzling jewel tones that embody the glamour of the red carpet, the palette is precious and faceted. 6 new Shellac shades: (Left to Right) Garnet Glamour, Alluring Amethyst, Dark Diamonds, Blushing Topaz, Emerald Lights and Starry Sapphire.

Chrome Nails

September 2016

After the gorgeous matte polishes we've been enjoying over winter, it's time to shake things up in time for the summer. Chrome Nails... if you want your nails to have an out-of-this-world mirror finish...test drive some Chrome Nails. Choose from 20 colours. Chrome Accent Nails additional $5.00 per nail Full Set of Chrome Nails additional $20.00 per Shellac Manicure, Pedicure or Refill Try it with your next Shellac Manicure or Pedicure.

CND® SHELLAC® Brand 14+ Day Nail Colour: Craft Culture Collection

July 2016

Say hello to the Craft Culture Collection. Embrace the beauty in raw imperfections, earthy colours and weathered textures with the new Craft Culture collection. 6 new Shellac shades: (Left to Right) Leather Satchel, Brick Knit, Patina Buckle, Hand Fired, Denim Patch and Oxblood. Shellac Power Polish a true innovation in chip-free, extended-wear colour.

CND® SHELLAC® Brand 14+ Day Nail Colour: Flirtation Collection

April 2016

Say hello to the Flirtation Collection. There's an electricity of unspoken attraction in the air. Evoke a subtle, sensual femininity with the new Flirtation Collection. 6 new Shellac shades: (Left to Right) Lavender Lace, Sparks Fly, Be Demure, Aqua-intance, Pink Pursuit, Honey Darlin'. Shellac Power Polish a true innovation in chip-free, extended-wear colour.

CND® SHELLAC® Brand 14+ Day Nail Colour: Art Vandal Collection

January 2016

Say hello to the Art Vandal Collection. Remaster the classics. A brilliant explosion of unrestrained colour. Original. Irreverent. Expressive. Leave your mark. 6 new Shellac shades: Untitled Bronze, Art Basil, Magenta Mischief, Digi-teal, Mauve Maverick and Future Fuchsia.

CND® Next-generation LED light

December 2015

CND® next-generation LED light cures all 5 fingers (or toes) in half the time. CND's 3C Technology™ optimizes light, energy and time for maximum shine and long wear. Uses optic mirrors to target exposure to the nail. The only lamp designed to completely and evenly cure SHELLAC® Brand 14+ Day Nail Colour.

New CND® SHELLAC® Brand 14+ Day Nail Colour: Aurora Collection

October 2015

Say hello to the Aurora Collection. Discover the beauty of the Arctic tundra. Colours crystallize into shimmering frozen effects. Experience the wonder. Mysterious. Surreal. Untamed. Consisting of 4 new Shellac shades Glacial Mist, Nordic Lights, Winter Glow and Tundra.

OPI Color Paints

August 2015

Color Paints is a new blendable nail polish that can be layered or used for nail art. This collection comprises of 9 blendable shades, Primary Yellow, Orange, Pen & Pink, Magenta Muse, Purple Perspective, Indigo Motif, Landscape Artist, Turquoise Aesthetic and Silver Canvas. Make your next mani a paint party with ColorPaints by OPI! Expect the unexpected when you blend them, layer them, or team them up to create a masterpiece of colour on your nails. $19.95 per bottle or from $5.00 with any nail service.

CND® SHELLAC® Brand 14+ Day Nail Colour: Contradications Collection

July 2015

Say hello to the Contraindications Collection. Step outside the boundaries. Textures and tones collide for an elegant fashion clash. Unexpected. Dynamic. Daring. Consisting of 6 new shades Safety Pin, Naked Naiveté, Tartan Punk, Rouge Rite, Poison Plum and Peacock Plume.

CND Shellac XPRESS5 Top Coat

July 2015

Provides a superior hard, scratch-resistant, crystal shine top layer for the CND® SHELLAC® colour service. Offering a speedy 5 minute removal

CND® SHELLAC® Brand 14+ Day Nail Colour: Garden Muse Collection

May 2015

Say hello to the Garden Muse collection. The new collection was inspired by a garden of memories future-past. Intense floral hues rapt in reveries. Stunning. Spellbinding. Intense. Be unforgettable. Consisting of 6 new Shellac shades Beckoning Begonia, Hot Pop Pink, Wisteria Haze, Lost Labyrinth, Water Park and Butterfly Queen.

CND® SHELLAC® Brand 14+ Day Nail Colour: Flora & Fauna Collection

January 2015

Say hello to the Flora & Fauna. The new collection was inspired by moments of reflection. Untouched meadows, nature's retreat, sigh with tranquility. Consisting of 6 new Shellac shades Dandelion, Fragrant Freesia, Salmon Run, Wild Moss, Creekside and Field Fox.

OPI Holiday Collection

December 2014

The holidays are just around the corner...how are you decking out your digits this season??? Get out your little black party dress and amp up your style intensity with special effects glitter and nail colours. Ask us for all the new holiday classics, reds, greens, silvers, golds, nail effects and more. Take on the party scene with these blinged out effects! Choose from... Comet In The Sky, Unfrost My Heart, Snow Globetrotter, So Elegant, Rollin' In Cashmere and I'll Tinsel You In. Additional $5.00 with Refills or $19.95 per bottle

CND® SHELLAC® Brand 14+ Day Nail Colour: Guilded Dreams Collection

October 2014

Say hello to the Gilded Dreams Collection. The limited edition collection was inspired by the holiday spirit. Perfect for adding some sparkle and shimmer to your party couture. Consisting of 3 new Shellac shades Grand Gala, Chiffon Swirl, and Dazzling Dance.

Alginating Masks

September 2014

Combining advanced German formula with traditional Chinese medicine, these soft masks contain Pearl, Ginseng and Chinese Angelica as its essential ingredients. The natural algae molecule is capable of absorbing and releasing large quantities of nutrients and hydrating the skin. The masks have excellent deep cleansing, hydrating,nourishing and lifting properties. Available in: Chinese Angelica – Reduces Pigmentation Mineral – Anti ageing Anti Acne – Oil Control Vitamin C – Whitens and Moisturises Rose – Sensitive Skin Rose Flower – Firming and Smoothing Green Tea – Anti Inflammatory and Lifting Enjoy a luxurious facemask with your next facial

CND® SHELLAC® Brand 14+ Day Nail Colour: Modern Folklore Collection

August 2014

Say hello to the Modern Folklore Collection. The new collection was inspired by romance, sophistication and individuality. Featuring 6 new Shellac shades Locket Love, Fine Vermilion, Rose Brocade, Crimson Sash, Indigo Frock, Plum Paisley.

OPI Matte Top Coat

July 2014

Are you looking to reinvent your nails with a fresh new look? Why not try the matte French mani? the accent matte nail or go the full matte! With all these possibilities you are spoilt for choice! $19.95 per bottle or from $5.00 your Refills, Manicure or Pedicure

China Glaze Tranzitions Collection

June 2014

China Glaze's Tranzitions collection is a set of six very unusual polishes. They're aren't like ordinary polishes. They're one colour when you apply them, once you've added a topcoat they change into a different colour. Hence the name Tranzitions. With names like Altered Reality, Duplicity, Metallic Metamorphasis, Modify Me, Shape Shifter and Split Personality the possibilities are endless. $19.95 per bottle or additional $5.00 with any nail service

CND® SHELLAC® Brand 14+ Day Nail Colour: Open Road Collection

May 2014

Say hello to the Open Road Collection. The new collection was inspired by the beauty of Earth's sun-washed reflections Featuring 6 new Shellac shades Powder My Nose; Sun Bleached; Desert Poppy; Clay Canyon, Sage Scarfe and Mint Convertible.

Liquid Sand dries to a textured matte finish with reflective glints of light. It looks and feels like beach sand (hence the name). 19 amazing colours to choose from. Can be worn with or without top coat. Get beautiful texturized matt finish nails with the OPI Liquid Sand Colour Range. Additional $5.00 with any nail service

Gelish Glitter Gel Polishes

March 2014

Spruce up your digits with some gorgeous Fashion Glitter Gel Colours perfect for when you want to add a little sparkle to your life. They dry to a long lasting, non-yellowing high shine.

UV Top Coat for polished or natural nails. This gel provides a long lasting, non-yellowing high shine. Cure time is between 3 - 5 minutes (depending on type of polish) under a UV lamp and you go home with nails that have a super-durable finish. Additional $5.00 with any nail service

Bubbly Effect Nail Polish

January 2014

Turn your nails into a thousand colored bubbles. The colour of the base will create endless surprises. Changing the colour of the enamel can get countless effects using a colour Bubbly Effect. Bubbly Effect will give you the thrill of marbled nail art. Available in White, Black, Red, Cherry and Blue. Additional $5.00 with any nail service

Christmas Nail Art Decals

November 2013

To help you get into the spirit of the festive season and celebrate your Christmas functions in style, we have a huge selection of assorted Christmas Decals to decorate your finger and toe nails. Additional 50 cents per decal

Caviar Effect

October 2013

Looking for something a little edgier for that Special Occasion? Try these three-dimensional beads as some added glam with these colourful micro beads to your next Manicure. Either match the glass beads with your polish or choose a contrast colour to have an colourful accent nail. Choose from 12 vibrant colours. Accent Nails $5.00 per nail

CND® SHELLAC® Brand 14+ Day Nail Colour: Forbidden Collection

August 2013

Say hello to the Forbidden Collection. The new collection was inspired by CND's top seasonal nail trends - Forbidden, a dark, dangerous, edgy look that encourages women to embrace their inner femme fatale. Featuring 6 new Shellac shades Blue Rapture; Burnt Romance; Dark Dahlia; Night Glimmer; Steel Gaze; Tinted Love.

Crackle Glaze Metals

July 2013

This new generation of crackle polish pairs edgy innovation with elegant beauty of a metallic shimmer. The polishes are quick drying and dry to a high shine and are currently available in 8 fashionable colours - Tarnished Gold, Broken Medallion, Platinum Pieces, Latticed Lilac, Haute Metal, Oxidized Aqua.$19.95 to purchase a bottle or an Additional $5.00 with any nail service

Collagen Eye and Under Eye Masks

June 2013

Blended with wholesome ingredients of Milk 'n Honey that exfoliate and hydrate the skin. Natural plant ingredients and marine-based collagen boost skin's firmness. Aloe, Vitamin E, Vitamin C and rose oil soothe and nourish. Suitable for all skin types and recommended for: • hyper-pigmentation • dehydrated skin • stressed skin • Reduce age and sun spots • Relieves tired eyes, helps reduce puffiness and dark circles • Moisturises and hydrates upper eye area • Helps firm and tighten.

Mirror Effect Nail Polish

May 2013

Mirror Effect is a shimmering chrome mirror nail polish that reflects light and gives your nails the look of polished metal. The polishes are quick drying and dry to a high shine and are currently available in 8 fashionable colours Metal Chrome, Cosmic Lilac, Pink Iron, Titanium Sky, Purple Diva, Red Hot, Metal Plum and Black as Ebony. Additional $5.00 with any nail service

CND® SHELLAC® Brand 14+ Day Nail Colour: Sweet Dreams Collection

April 2013

Say hello to the Sweet Dreams Collection. Drift off on a cloud of confections with the new CND Shellac Sweet Dreams Collection. Featuring 5 new Shellac shades Grapefruit Sparkle - Cake Pop - Lilac Longing - Azure Wish - Limeade.

Neon Acrylic Powders inspired by the season's sizzling hot trends. They were the perfect colour accessory for our sizzling summer and will still be fabulous for the upcoming autumn months. An assortment of 6 bright, vivid colours that can be mixed and matched for endless fun in the sun! They come in 6 colours - Neon Pink, Neon Yellow, Neon Orange, Neon Blue, Neon Green and Neon Purple. Additional $5.00 with Permanent French Refill

Designer Tips

February 2013

Do you want to have the hottest nails in Adelaide? Like the latest shade of nail polish that is all the rage or the must-have designer handbag, Designer Tips are now in high demand, and we stock an assortment to suit any occasion or mood. If you are one who doesn't hold back when it comes to making a statement — why not make a huge statement with your nails! Choose from cute florals, quirky prints, and many more incredibly unique designs that are trending everywhere overseas. Give your nails some attitude! Prices start from $35.00

Hologram Effect Nail Polishes

January 2013

Hologram Effect is a quick drying nail polish formulated to capture light and transform your nails it into amazing, ever-changing liquid swirls. These high quality polishes are Formaldehyde, Toluene and DBP free. Choose from 8 ultra dimensional colours Mercury Twilight, Coral Glam, Retro Pink, Ultra Violet, Jade Groove Mermaid Spell, Ocean Rush, and Flash Black.. Additional $5.00 with any nail service or purchase a bottle for $19.95

Party Lashes

December 2012

Gorgeous lashes aren't just for supermodels anymore! If you have considered accentuating your lashes with some eyelash extensions then these are the lashes for you! Eyelash extensions are not traditional false eyelashes. They are single strands of eyelashes applied one by one directly to your own eyelashes. Made from 100% sterilised human hair, eyelash extensions will give your lashes a fuller, longer, glamorous look that can last between 2 - 4 weeks. Get the closet thing known to natural lashes ever developed. These exclusive individual lash clusters are permanently curled, waterproof, and weightless.

Nail Art Foils

November 2012

Just in time for Christmas.... The ultimate in nail art fashion, Nail Art Foils. With over 40 styles to choose from, these foils offer an extensive collection of bold, vibrant shades and assorted designs. These foils will transfer your nails into a work of art in minutes. Prices will vary depending on the type of nail art chosen.

Turn Back The Clock - Anti Ageing Facial

October 2012

An extremely hydrating Facial designed for skin that requires an extra moisturising boost. This Facial will not only enhance the health of your skin by rehydrating it, it will improve your skin's tone, texture and appearance. Benefits of the Anti- Ageing Facial: • Helps beat wrinkles before they occur by hydrating your skin • Improves your complexion by increasing circulation • Helps reduce pigmentation • Helps fade freckles, age spots and dark flaws • Provides the skin vitality, energy and protection • Deep cleanses the pores • Suitable for all skin types This facial would make a gorgeous unforgettable Christmas Gift. Gift Vouchers available in-salon. Introductory offer $70.00

Shellac Pedicures

September 2012

Say Goodbye to your post-pedi depression. No more sheet marks, dents, dings or dulling. No more regrets the morning after. Shellac is hypo-allergenic and does not include Formaldehyde, Toluene or DBP (Dibutyl Phthalate). Shellac lasts for 14 days with no chipping, scratching or fading and will remain glossy and glamorous the entire duration!! Pedicure Introductory offer $40.00 Save yourself $10.00 French Shellac additional $5.00

Maylar Crushed Shells

July 2012

Beautiful little holographic pieces of heaven to brighten up your next Manicure, Pedicure or Refill. Comes in a variety of brilliant colours to add pizazz to your next nail art design.

Shellac Manicure

June 2012

Ladies… Now you can say goodbye to chips, cracks and smudges and say hello to Shellac™Nail Colour! Shellac paints on like polish, wears flawlessly for an incredible 14 days of high gloss shine. The formula combines the beauty of Polish and the strength and longevity of Gel to give you rich, gorgeous, long lasting colour. Shellac was developed and tested to withstand the rigors of daily wear providing a strong durable finish that is cured under a UV light so there is no drying time. Shellac is hypoallergenic and does not include Formaldehyde, Toluene or DBP (Dibutyl Phthalate). Shellac lasts for 14 days with no chipping, scratching or fading and will remain glossy and glamorous the entire duration!!

Glow in the dark acrylic

May 2012

That's right as the name suggests they actually do glow in the dark, the magic is literally at your fingertips! They come in 5 colours - Dark Pink, Dark Yellow, Dark Orange, Dark Blue and Dark Green. And just quietly I have been told by a few clients that these glow in the dark nails really spice up the bedroom!!! LOL Additional $5.00 with any acrylic nail service

Magneffect Tridimensional Nail Polish

March 2012

This is a revolutionary blend formulated to react to the magnet on the cap, creating instant, three-dimensional designs in seconds. So, what makes the Magneffect Nail Polishes different? The polish contains magnetic particles that separate into designs when you place the magnet over the polish. Upon application of the magnet, the particles separate. It looks like a metallic layer underneath with a solid shiny colour on top. The effect is multidimensional. It is your choice of which design to have lines/waves, horizontal/diagonal. Available in a stunning range of 24 colours to suit every mood. These polishes are quick drying and dry to a high shine. Additional $5.00 with any nail service

Swarovski Crystals

January 2012

Swarovski Crystals are exquisite jewels for your nails. High quality flatbacked crystals by Swarovksi, are part of their Crystal Elements range and are available in assorted colours and sizes. $1.00 per crystal with any nail service

Purple Eyelash Tint

September 2011

If you are sick of boring Black or Blue Black Lashes try this is an intense and glowing Purple colour, especially made for women with light brown, grey or blonde eyelashes. Are you a game to try this gorgeous new shade???

OPI Shatter Nail Polish

August 2011

These gorgeous colours are available in Black, White, Red, Blue, Navy, Silver, Gold, Pink, Cherry and Turquoise. You pick the Base Polish and Crackle Colour and after its applied you can watch it magically transform your nails right in front of your eyes! With 27 different shades to choose from it makes great "bling" for everyday wear or for that "Special" Night Out!! Additional $5.00 with any nail service