Do you occasionally crave nail art… a design more unique than basic polish? Something unique that shows some personality?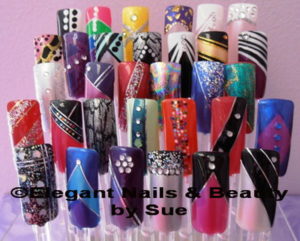 Even if your don't have a special occasion coming up, let us decorate your nails by adding some "Bling" to your next nail service…
Call or text us on 0419 806 803 to book your appointment today!
When it comes to a Nail Art Design any of the following can be used in a design...
Because life is too short to having boring nails we can transfer your next nail service into a work of art. 
Prices start from as little as $1.00 per nail. We can provide you a quote for Custom Nail Art. 
When booking your appointments please inform us if you will be requiring Nail Art with your nail service as it will take longer so we will need to book and charge for the additional time.