Thieves Chemical Free Cleaning Products
Thieves is a Plant Based Cleaning system that brings a safer way to clean your home without the nasty toxic chemicals.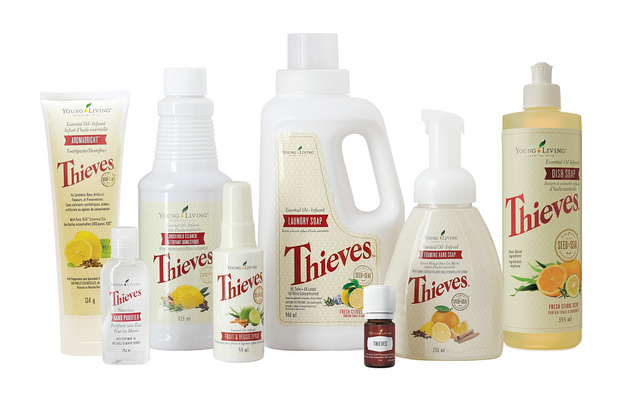 Thieves products range from toothpaste, mouthwash and hand soap to household cleaning products, this gorgeous smelling product line provides safe, natural alternatives for use in the home or office.
Recognising the hazard of using dangerous chemical-based products in the home, Young Living created a line of natural household products packed with the power and protection of Thieves.
If you are ready to take charge of your health and well-being by removing chemicals from your home call us today 0419 806 803
Cleansing Soap
Thieves cleansing soap offers ultra-cleansing benefits and the power of pure essential oils. Containing the Thieves Essential Oil blend, this bar soap is ideal for purifying the skin.
Dental Floss
Dental Floss is made with strong fibres that resist fraying and easily glide between teeth for those hard to reach places. Offers protection to freshen your breath.
Dish Soap 355ml
With naturally derived ingredients Thieves Dish soap effectively cleans your dishes without nasty chemicals, dyes or synthetics leaving them sparkling clean.
Essential Oil 15ml
With an irresistibly spicy scent and exceptional cleaning power, Thieves is a core ingredient in the home cleaning and personal care products. Thieves essential oil blend has been university tested for its effects against unwanted mirco-organisms.
Foaming Hand Soap
Gently cleanse your skin with Thieves Foaming Hand Soap. Its a gentle effective alternative to chemical soaps containing aloe and vitamin E, both renowned for their skin nourishing benefits.
Fresh Essence Plus Mouthwash
Combined with naturally derived ingredients, contains no alcohol, synthetic dyes or artificial flavors for clean teeth and healthy gums.
Fruit & Veggie Soak
Perfect for meal preparation or cleaning larger amounts of produce, add a small amount of Thieves® Fruit & Veggie Soak to a basin of water, soak, rinse and enjoy clean fruits and vegetables!
Household Cleaner
Cleaner combines naturally derived and plant based ingredients. Providing exceptional home cleaning and purifying power this cleaner combines naturally derived and plant based ingredients. . This multi-purpose cleaner is safe to use around your family, including children and pets.
Laundry Soap 946ml
Thieves Laundry soap gently washes your clothes, cleaning them without any chemical residue. The formula's strength leaves your clothes clean with a light citrus scent.
Toothpaste - Aromabright
AromaBright toothpaste helps promote clean teeth and healthy gum. Free from fluoride, synthetic dyes and preservatives, it's a great choice for the whole family.
Thieves Spray 29.5ml
Thieves spray is a portable cleaning spray ideal for purifying small surfaces. This spray can be used on door knobs, handles, toilet seats and more. Easily fits in your bag.
Toothpaste - Dentarome Plus
Naturally derived ingredients such as baking soda and Thieves essential oil blend gently lift stains for brilliantly clean teeth.
Toothpaste - Dentarome Ultra
Made from naturally derived ingredients and containing health-promoting alternatives, Dentarome Ultra i great or removing stains to reveal a brighter, fresher, more radiant smile!
Waterless Hand Purifier
Convenient, portable and long lasting Thieves Waterless Hand Purifier is enhanced with Peppermint essential oil to cleanse and purify hands.
Thieves Wipes 30 pk
Thieves wipes are infused with the powerful properties of Thieves essential oil and are a convenient way to clean a variety of surfaces.
There are multiple uses for Thieves Products!
Use Thieves Essential Oil 15ml to
1. Rub diluted on the bottoms of feet for extra protection against colds and flu, especially during winter.
2. Put 2-3 drops on a dryer sheet to freshen laundry.
3. Put 1-2 drops on stubborn adhesives, such as glue and chewing gum to remove from surfaces.
4. Drop 4-5 drops on a tissue and attach to an air vent to freshen hotel room.
5. Diffuse for 24-48 hours straight to eliminate household mould.
6. Apply one drop of Thieves Essential Oil Blend sanitises your toothbrush.
7. Diffuse in classrooms reduced student sickness and absenteeism.
8. Diffuse in your common family areas during winter months.
Use Thieves Household Cleaner to
9. Use as a pre-wash spot remover for tough fabric stains.
10. Use diluted as a pre-soak for dirty sportswear.
11. Add a capful when rewashing a forgotten laundry load to eliminate mildew odours.
12. Use diluted to remove grease, food or pet stains from carpet. 
13. Use to remove tough stains on plastic food storage containers.
14. Use undiluted to clean tough areas such as ovens, rusted metal.
15. Spray diluted on plants with mould.
16. Use to clean stubborn "bathtub rings".
17. Use to remove hard water buildup and soap scum.
18. Use to remove fingerprints from stainless steel, glass mirrors and other surfaces.
Use Thieves Spray 29.5ml to
19. Spray inside car to freshen the air and surfaces.
20. Spray on filter in vacuum to freshen the air while you clean.
21. Spray on silk and fake plants to clean.
22. Spray in closets to freshen and protect from unwanted microbes.
23. Spray on sheets before making the bed to freshen.
24. Spray on laundry, especially towels while folding.
25. Remove permanent marker from surfaces.
26. To eliminate anthills and other pests.
27. As a bathroom or laundry deodoriser.
28. Bring on vacation to freshen clothes and hotel rooms.
29. Spray in water damaged rooms to eliminate mildew odours.
30. To clean tree and plant sap from hands and gardening tools.
Use Thieves Wipes 30 pk to
31. Wipe counter tops and cutting board to disinfect surface before  preparing food.
32. Wipe down handle and child seat on shopping trolleys before use.
33. Wipe down toys and playground equipment.
34. Wipe down doorknobs, handles, phones, keyboards and other surfaces that are handled often, especially after illness.
Use Thieves Fresh Essence Plus Mouthwash 236ml to
35. Put inside a small glass spray bottle to use as a breath freshener. 
36. Use to gargle when you have a sore throat.
Use Thieves Cleansing Soap 100g to 
37. Use as a pre-wash treatment by scrubbing onto stains and marks.
Do your health and well-being a favour, explore the world of Young Living Wellness Products and experience the difference! 
Phone us today for more information 0419 806 803