Slique Weight Management products successfully address two of the main issues to successful weight control: achieving adequate nutrition and dieting sensibly.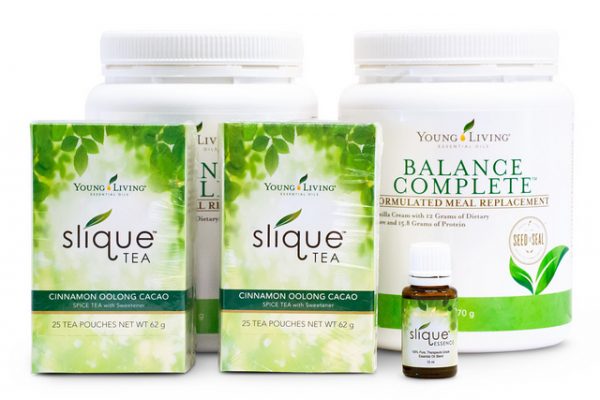 In a weight obsessed society and with obesity growing into a major medical problem, the dietary power of the Slique™ system knows no ends, so slip into a New you with Slique!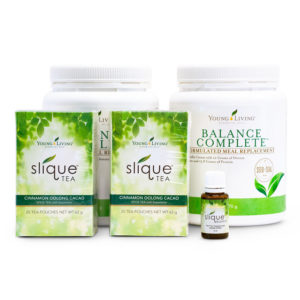 Slique Challenge Kit
Wholesale $261.10 AUD
Retail $343.55 AUD
Item No 458102
M

anage your weight naturally with Slique and transform your life!
If obesity is a concern for you or your family, or you simply want to maintain weight within the healthy range, use the Slique Kit as a start to your solution.
The citrus oils aid in eliminating cellulite from the body! Other benefits of properly extracted citrus oils are to assist the action of kidneys, reduce retention of water, and balance emotions. 
Emotional balance is critical when battling any addictions or cravings including food addictions.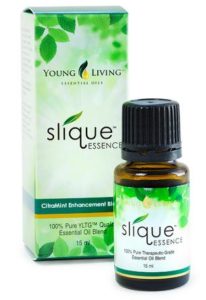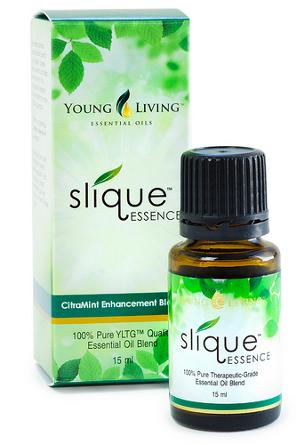 Slique Essence
Wholesale $44.25 AUD
Retail $58.20 AUD
Item No 458602
Slique Essence combines the powerful essential oils of grapefruit, tangerine, lemon, spearmint, and ocotea plus stevia extract into a unique blend that naturally supports healthy weight-management goals when combined with diet and physical activity.
These ingredients work together to activate olfactory receptors and may help suppress appetite and hunger between or during meals, especially when used in conjunction with Slique Tea.
Grapefruit: fat burner
Tangerine: supports detox and healthy digestion.
Spearmint: reduces sugar cravings, suppresses appetite and hunger
Lemon: alkalines the body, burns fat, detoxes tissues, fights cancer
Ocotea: balances blood sugar, helps to fight diabetes
Stevia: fights yeast and promotes a healthy digestive balance
How to Use: Shake vigorously before use.
Dietary Supplement: Add 2 – 4 drops to your favourite beverage, Slique Tea, or water. Use as needed throughout the day whenever hungry.
Topical: Dilute 1 drop with 1 drop of V-6 or olive oil; then apply to desired area as needed.
Aromatic: Direct inhalation preferred.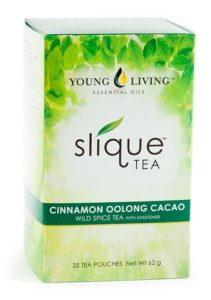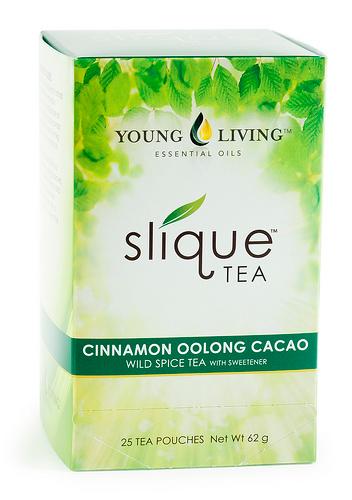 Slique Tea
Wholesale $33.65 AUD
Retail $44.30 AUD
Item No 4572523 
Slique Tea is a delicious, premium blend of wholesome and rare ingredients. It offers a natural alternative to sugar-laden fruit drinks, concentrates, sodas, and coffees and can be used as part of a healthy weight-management program.
It contains Ecuadorian ocotea leaf (Ocotea quixos), a member of the cinnamon family traditionally used by natives for health and wellness. Cacao is then added, along with pure, proprietary vanilla essential oil.
Slique Tea also contains jade oolong tea leaves, sought after for their rich aroma and powerful antioxidant content. These leaves are handpicked from the high mountain regions of Taiwan, known for producing some of the world's finest teas.
All of these ingredients are enriched with 100 percent pure therapeutic-grade Arabian frankincense powder, an exclusive ingredient from Young Living's distillery in Salalah, Oman.
Suggested Use 
• Bring 8 ounces of water to a rolling boil, let cool for 3½ minutes. Place one pouch in a cup, mug, or filter and add water. Steep for at least 3 minutes.
• Use daily before and after workouts, with meals, or any time you need a natural boost.
• Add your favourite Young Living essential oils as desired.
• Delicious served hot or cold, Slique Tea is a guilt-free staple to any diet regimen.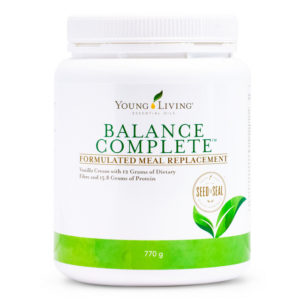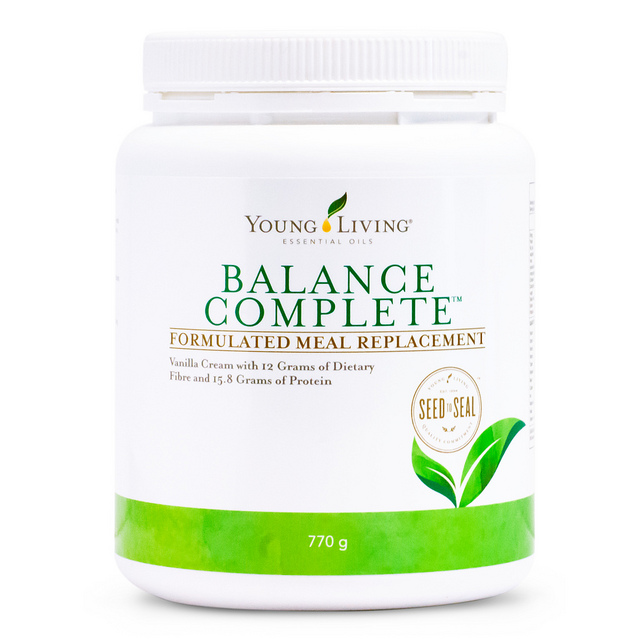 Balance Complete Powder
Wholesale $84.85 AUD
Retail $111.65 AUD
Item No 329202 
Balance Complete™ is an essential oil-infused, superfood-based meal replacement, supplying an incredible 12 grams of fibre per serving. Use daily to provide your body with a proprietary fibre blend with optimal viscosity (thickness) and natural fibre concentrates. This superfood meal replacement is both a powerful nutritive energise and cleanser.
Ningxia wolfberry extract, nutrient-dense brown rice bran and a wide assortment of superfoods deliver 11 grams of fibre per serving and a balanced, complete and nutritionally dynamic meal. 
Primary benefits:
• Improves fat elimination.
• Enhances nutrient absorption.
• Supplies 11 grams heart-healthy fibre per serving.
• Nurtures probiotics and colon health.
• Curbs food cravings.
• Ningxia wolfberry supplies clinically proven immune-boosting wolfberry proteinpolysaccharides, is 16% protein by volume and contains zeaxanthin, an antioxidant critical for eye health.
• Orange essential oil is high in d-limonene.
• Inulin fibre supports pre-biotics, nurturing friendly flora in the intestines. 
You can counteract that trend with Balance Complete, an optimal balance of ingredients ideal for a nutritious, kilojoule-conscious, delicious and satisfying meal replacement. These ingredients also provide generous amounts of fibre and other nutrients to prevent food cravings and cleanse through improved elimination and digestion.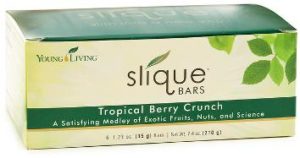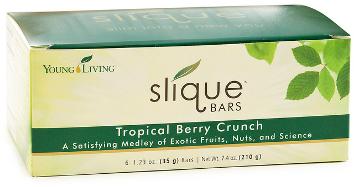 Slique Bars
Wholesale $29.90 AUD
Retail $39.35 AUD
Item No 502402
Want a tasty treat you can grab on the go without sabotaging your daily goals? Slique Bars are filled with wholesome ingredients, such as dates, coconut, almonds, chia seeds, bing cherries, and just the right amount of cacao nibs. 
Plus, these gluten-free snack bars are high in fibre to help you feel full without excess calories.Make it yours: Keep Slique Bars in your office desk, car, gym bag, or purse for a high-fibre snack when hunger cravings hit and you can't make a nutritious meal.
Slique Bars are a safe innovative weight management tool by providing healthy calories and nutrition that will help to keep you feeling fuller for longer. 
A medley of exotic fruits, nuts, and science creates the perfect functional, nutritious snack.
Ingredients: Almonds, Honey, Inulin Syrup, Dates, Shredded Coconut, Pistachios, Cocoa Nibs, Goldenberries, Cherries, Quinoa Crisps, NingXia Wolfberries, Dried Coconut Flakes, Flax Seeds, Sea Salt, Vanilla Extract
Do your health and well-being a favour, explore the world of Young Living Wellness Products and experience the difference! 
Phone us today for more information 0419806803