We all want to have younger looking eyes without plastic surgery. If Ageless Eyes are on your wish list follow our 5 Tips.
Your eyes are the first thing people notice and they are also the first place you will notice subtle signs of ageing. These tips will help slow down the ageing process
Tip #1. Cleanse
If you wear makeup daily, it is extremely important to remove it before going to sleep. Falling asleep with your makeup on reduces your skin's chance to rejuvenate itself overnight, not to mention potential skin irritation and eyelash breakage.
Your skin is something that people notice, so be sure to invest in a good cleanser, one that suits your skin type and removes all traces of makeup. 
No matter which type of cleanser you decide to use, oil-based, foaming, Micellar water or

cleansing wipes

to remove your makeup, be sure it doesn't contain any alcohol as it is extremely damaging to the skin.
Tip #2. Firming
As you age, your skin's collagen production starts to slow down before eventually stopping altogether. The slowing down process starts in your early 20's but isn't noticed until your late 40's or early 50's.
To help give your skin a boost in the elasticity department, look for eye creams that contain collagen-encouraging ingredients like antioxidant vitamins C & E, peptides, amino acids and co-enzyme Q10. 
Whilst you should use an eye cream morning and night, nighttime is when your skin will benefit the most, as this is when your skin goes into 'repair mode' and produces more collagen than any other time of the day.
Tip #3. Brightening
If you are cursed with dark circles under your eyes they don't have to be noticeable. The use of a good firming eye cream can help increase your skin's collagen supply and help counteract the dark circles. 
Many under-eye concealers contain light-diffusing pigments that reflect the light in such a way that they blur the look of fine lines and lighten up dark shadows. 
You can also try using yellow-toned concealers, as the yellow pigment can help neutralise the purply-blue undertone and help minimise the appearance of dark circles.
Always use concealers sparingly and ensure you blend them properly so they don't look 'caked on'.
Tip #4. Smoothing
When awake, you use your eyes every second of the day (no wonder they can look tired). When you're young, your skin is supple and elastic enough to spring back after you've made an expression. However, as you get older and your skin loses its elasticity, repetitive crinkling eventually becomes character of your face.
To help thicken up the skin around your eye area, or your face in general, look out for skincare products that make use of

Retinol

or – if you have sensitive skin – milder Retinol derivatives like Retinyl Palmitate. Retinol has been around for years and is still one of the most proven anti-wrinkle ingredients you'll find on the shelf. 
Aside from stimulating collagen and elastin production, Retinol also helps to speed up cell renewal, which exfoliates your face to reveal brighter, fresher looking skin.
Above all, Retinol is an antioxidant, which is beneficial in helping to offset the ageing effects free radicals have on your skin.
Tip #5. Stimulate
As we age, we all need to reach out for help in the stimulation depart so we can age gracefully. Jade rollers are one option that will help to keep you looking younger by improving your skins elasticity. 
Why use a Jade Roller?
The gentle pressure of a
jade roller
helps to stimulate circulation leaving your facial muscles more relaxed. Daily use encourages lymphatic drainage, which boosts the skin's natural detoxification process.
By removing your skins toxins, you are allowing your skin to rejuvenate itself which in turn you will visibly notice a more toned and lifted face.
How to use a Jade Roller
For best results, start at the chin by rolling the jade roller, working in a gentle upward rolling motion. Gently roll in all directions (up, down and sidewards directions), being extremely gentle around the delicate under-eye area. 
Most effective on cleansed skin, use to massage in skincare products such as facial oils, serums, or moisturiser. 
Can also be used on an uncleansed face at the end of a busy day for reducing facial tension.
Great for relieving sinus pressure and headaches.
For a more cooling experience, store your jade roller the fridge. The naturally cooling sensation helps to calm the skin, reduce puffiness and soothe inflammation.
If you don't have time to take care of your skin properly, consider treating yourself to regular Facials. 
Facials will help address any skin complaints you may have and they are a great stress reliever. Regular facials should be part of your self care routine.
Ageless eyes are possible at any age!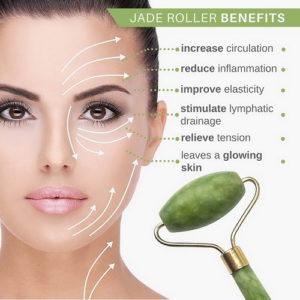 By following these 5 expert tips for ageless eyes, you will naturally look younger and appear fresher.
More Articles from our Blog…